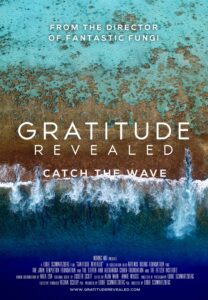 New Living Expo is pleased to announce a special screening of the documentary Gratitude Revealed with a Q&A with Director Louie Schwartzberg.
An epic journey forty years in the making, Gratitude Revealed from acclaimed filmmaker, Louie Schwartzberg, the director of Fantastic Fungi, takes us on a transformational, cinematic experience of how to live a more meaningful life full of gratitude through his intimate conversations with everyday people, thought leaders, and personalities revealing gratitude is a proven pathway back from the disconnection we feel in our lives; disconnection from ourselves, our planet, and each other. What began as a short film viewed by millions at TED in 2014 has evolved into a global effort to make this full-length feature film available in 2023. To learn more, visit: www.gratituderevealed.com.
Louie Schwartzberg Bio
Louie Schwartzberg is an award-winning cinematographer, director, and producer who has spent his notable career providing breathtaking imagery using his time-lapse, high-speed, and macro cinematography techniques. Schwartzberg is a visual artist who breaks barriers, connects with audiences, and tells stories that celebrate life and reveal the mysteries and wisdom of nature, people, and places.
Louie's past work includes feature documentaries Fantastic Fungi, Gratitude Revealed, Wings Of Life, America's Heart and Soul, the3D IMAX film Mysteries of the Unseen World, popular Netflix series Moving Art, as well as directing Soarin' Around the World; the most popular motion simulator ride film now playing at Disney Theme Parks globally. For Schwartzberg the greatest satisfaction is creating works that inspire audiences to celebrate Life And protect what we love.
Special Offer for New Living Expo Attendees 
Gratitude Revealed is excited to offer free screenings for attendees of New Living Expo for their respective communities and organizations. These screenings can be held with non-profits, groups or orgs and com with a discussion guide and curriculum.
Please contact Corinne Bourdeau (corinne@360degreecomm.net) or Mary Murphy (mary@360degreecomm.net) for more details on how to set up a free screening with your group or organization.