Through her mediumship healing abilities, Kimberly receives coded messages through her blinking eyes as she signs and speaks in etheric Angelic Language. Kimberly receives and reveals special Messages from God, Mother Mary, Ascended Masters, Angels, and Advanced Civilizations.  Kimberly is Divinely Guided by the Holy Spirit into the audience to select several individuals for a medical intuitive scan, revealing many diseases, emotional traumas, unusual conditions, past and present, followed by laying-on of hands and/or psychic surgery. Spirit will select individuals to join Kimberly on stage to assist her in laying-on hands. By praying for others, and witnessing their healings, you too can be healed.
Topics will include: How to heal yourself * Self-protection tools * Organic holistic living and Nutrition * Boosting your immune system * Avoiding toxic exposure to mercury and plastics * Exclusive information about water Indigos & Starseeds.
This is truly a Miraculous Healing Event where everyone can be Healed in the 12th Dimension.
Kimberly Meredith is a medical intuitive, trance channeler and psychic surgeon. Kimberly channels messages through her eyes' blinking codes as a tool of communication from God, Mother Mary and Angels. After her near-death experience, or NDE, she underwent numerous tests, including with PsyTek Subtle Energy Laboratory and Research Facility and with Dr. Norm C. Shealy, and the results confirmed her ability to emit scalar energy – even through walls! Kimberly's healing abilities reveal the convergence of God and science. www.TheHealingTrilogy.com
We know you will enjoy this healing event with Kimberly Meredith at New Living Expo.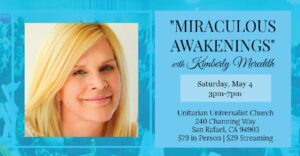 Kimberly will be doing a live 4 hour event May 4th at the Unitarian Unversalist of Marin, 240 Channing Way in San Rafael, from 3-7 pm.
Join Kimberly Meredith via Live Stream for the "Miraculous Awakenings" Spiritual Service, broadcasting May 4th from the Unitarian Universalist Congregation of Marin.
https://www.thehealingtrilogy.com/product/may-4-miraculous-awakenings-live-stream/